Succeed with Safety Program
We Succeed with Safety by maintaining our Safety Focus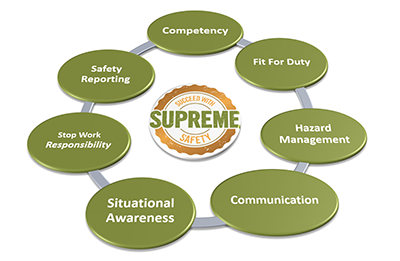 Competency is possessing the knowledge and skills to do something safely and right the first time. Our workers have:
Training and Experience to properly perform the work.
The Ability to recognize hazards in the work area.
The Responsibility to Stop Work, when necessary.
Authorization to complete the work.

Fitness for Duty is ability to do something safely. Our workers have Duty to:
Report to work physically and mentally prepared for the day.
Notify their supervisor when something occurs that reduces their ability to safely perform their job.
Hazard Management is how we plan to ensure that Everyone Goes Home Unharmed Every Day. Prior to beginning work, our crews:
Identify Hazards: Considering what needs to be accomplished and the risks associated with the work, asking the question, what could keep me and my crew from going home unharmed today?
Reduce Risks: We Use the Hierarchy of Safety Controls to answer the question, what can we do to make the work safer?
Emergency Planning
Our crews never work when emergencies are likely, but, before beginning work, we always answer the question, what are we going to do if something goes wrong? We train our crews to:
Recognize an emergency.
Stop Work – Shut down all construction operations and focus on the emergency.
Evacuate, if necessary.
Call Emergency Medical Services.
Provide 1st Aid.
Communication is passing on and receiving information. Our crews ensure that the work plan is understood by all workers. The tool we use to communicate this information is the Job Safety Analysis (JSA) meeting, occurs before work begins.
Situational Awareness is understanding who and what is in our work area and how the actions of people or changes in our environment could affect our crew's safety. Situational awareness requires vigilance and being on the lookout for changing conditions.
Stop Work Responsibility is the duty to act, when working conditions change and we need to adjust our work plan. When work needs to be stopped our crews:
Communicate respectfully and clearly to the affected workers.
Describe the hazard(s) and secure the work by properly shut down equipment and securing material, as needed.
Move to a safe location.
Discuss the changes and revise the work plan.
Ensure everyone understands the new safety requirements.
Return to work, complete the job, and go home unharmed.
Safety Reporting is how we Learn from Hazardous Conditions, Near Misses, and Incidents to Prevent future occurrences. Our safety reporting structure is broken down into three categories:
Hazard Condition – Discovery of a Condition or Danger that Could Lead to Injury or Damage, if not corrected.
Near Miss – An Action that Came Close to Leading to Injury or Damage.
Incident – An Unexpected/Unwanted Event that Lead to Injury or Damage.
Our annual training goal is to ensure that 100% of field workers are trained/certified in the following areas:
OSHA Construction Outreach (10- and 30-hour courses with utility emphasis)
Red Cross 1st Aid/CPR/AED
Wetlands Work Best Management Practices
Smith Defensive Driving System
American Traffic Safety Services Association Certified Flagger
Supreme Industries has a history of exemplary safety program implementation with notable improvement. We strive for the improvement of our HSE programs, continuously building on the foundation of lessons learned internally and from the industry.